The main site of interest in inland Croatia is Plitvice Lakes. The non-tourist small communities around the lakes gave an insight into post Bosnian War life and a view of some beautiful landscapes.
I received a ton of emails asking what the inland part of Croatia looked like beyond Plitvice Lakes, so I put together a quick post with some of the pictures I took.  The landscape changes from mountain areas, to foothills, to flat lands over the few hours of driving.
Along most of the coast of Croatia, where most of the tourism exists, most remnants of the 1990's Bosnian Wars have been erased. Coming inland though, with exception of Zagreb and Plitvice Lakes, there are tell-tale signs of the wars as these communities try to mend from this troubling time.
This part of Croatia has influences from Hungary and the Austrian/Hapsburg Empire and feels like much of Central Europe with churches with onion domes and Gothic spires.
I also saw a lot of block houses and rustic farmhouses.
Renting a car for the trip from Pula (Istria region) to Plitvice and then to Zadar, the roads were surprisingly really good. Croatia has invested in repair and building of its infrastructure. There were warning signs to not go off the main roads as there are areas that have not been de-mined after the Bosnian Wars. Driving through the small towns, you can also see many bullet ridden buildings.
---
Slunj
My visit to Plitvice started early to avoid the crowds, and with some time in the afternoon, I headed up to another area with beautiful waterfalls called Slunj. This was a little hard to find and I almost turned back, but so glad I did not.  It is easier to see coming from the North as you will see the waterfalls first and this is a great photo-op area before you enter the village in the Pay Parking area on the ramp.
The lower part of town is the village of Rastoke (means "beautiful water") that is ON the river.  They have a park / waterfall area called Slovin Unique Rastoke with a series of waterfalls, canals, canyons, caves and viewpoints. Great exploring.  The waterfalls are not as big as Plitvice but can get a lot closer to them and there is also a lot less people. Tour buses do stop here but the volume of people is significantly less.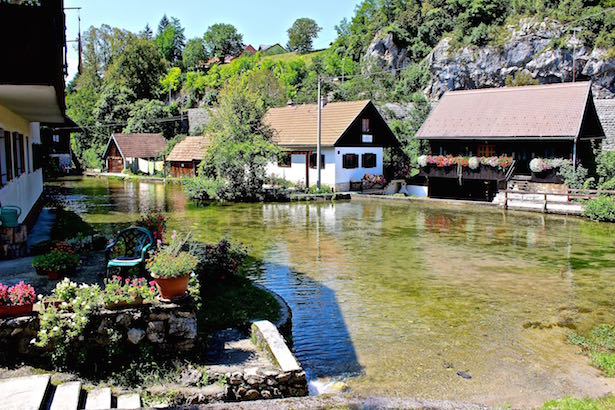 You can rent rooms here where the waterfalls go under the homes.
Eat at Pod Rastockim Krovum to gain free entry to the little park area otherwise it is a ~$5 charge (Which is basically the cost of lunch). The food is a mixture of Italian, German and Croatian.  I had a gnocchi dish that was much more potatoey than the Italian version, but very good.
Sitting in the park area, you are surrounded by waterfalls, beautiful views and the cool air with a bit of mist from the falls and rainbows.
---
Korenica
The Plitvice parks area was sold out for accommodations (common in the busy summer), so I stayed in Korenica, a little town of 1,700  people about 20 minutes south of the Plitvice Lakes in a BNB. My host was gracious and it was safe. This is a restaurant in town where I had dinner which served mostly meat dishes with a Turkish influence and it was delicious especially as a change up from the coastal Croatian seafood (that was also delicious).  
And now I am off to Zadar!